"Nowhere in the world will such a brotherly feeling of confidence be experienced as amongst those who sit together smoking their pipes." Doctor Barnstein - The Results and Merits of Tobacco, 1844.
Tuesday, 18 September 2012
Thanks to Marcin for converting my rough doodles to a usable logo.
Sunday, 9 September 2012
Yesterday's meeting at The Cuddie Brae was another warm dry day (we've definitely been lucky with the weather recently).
Marcin, David, Neil and I worked our way through a nice variety of blends.
I got some good feedback on some of the ideas for logos that I have been working on...I will post a few of them here.
The suggestion of trying a few meetings at The Beehive Inn met with unanimous approval. However, David did warn that they get very busy during the summer.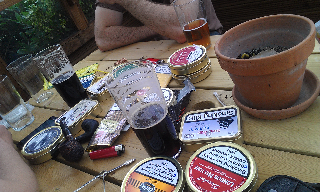 Saturday, 8 September 2012
Had a very pleasant evening on Friday at The Beehive Inn with Steve and Kirby (a fellow brother of the briar visiting from Ohio, USA).
We started at the tables at the front, on the pedestrianised bit of The Grassmarket, before moving to the beer garden at the back.
There's a nice selection of seating areas on the multi-level decking. Most of the tables have large umbrellas and a couple of areas have decent looking heaters (might be handy in the winter).
Steve made the very good suggestion that having a more central location might be more attractive to potential members...with the added bonus that there would be no problems with trains if we had a Sunday session.
If there are no objections, I will schedule another meeting, at The Beehive Inn, on Sunday 21st October, from 2.30pm.
Forgot to mention pipes and baccy: Kirby was smoking a very handsome Eric Nording freehand, Steve was smoking his Peterson Donegal with St Bruno Flake and I was smoking Dunhill London Mixture in my restored Dunhill billiard.